August 26th, 2009
This is emphatically not a return to form. I've been sharing songs with friends and I thought it was a bit silly to not share them here too.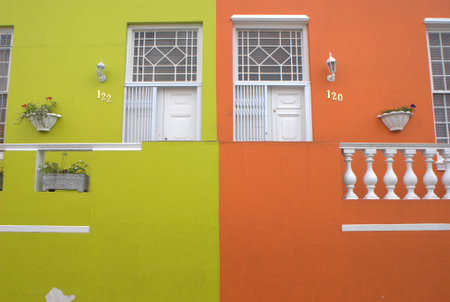 colo(u)rful houses in Bo Kaap
I quite like this Alberta Cross song. The whole album is good, too, though I don't love every song.
Alberta Cross – Low Man (mp3)
Audio clip: Adobe Flash Player (version 9 or above) is required to play this audio clip. Download the latest version here. You also need to have JavaScript enabled in your browser.
Volcano Choir is a side project of Bon Iver's Justin Vernon. This track was not what I expected, but it's quite catchy/ good. And Justin's vocals are wonderful as always.
Volcano Choir – Island, IS (mp3)
Audio clip: Adobe Flash Player (version 9 or above) is required to play this audio clip. Download the latest version here. You also need to have JavaScript enabled in your browser.
Soul Sides has been posting some fantastic stuff lately and you'd be remiss to not check it out. Bobby Freeman's "Good Good Lovin'" is a classic blues-based, Motown-sound track with a hard driving sax part. They posted two tracks by the Metros and both are excellent soul tracks, but I like the dark, swaggering "Since I Found My Baby" better.
They also posted these oh-those-are-funny videos of Lushlife doing acoustic covers of classic hip hop tunes. They are so funny, until you realize they're actually quite compelling. For example, this Jay Z cover:

I definitely am going to keep my eye out for Mayer Hawthorne after a few tracks of his I heard recently. Grab the breezy, oldies- and Motown-inspired "Your Easy Lovin' Ain't Pleasin' Nothin'" at MBV.
I don't know much about Monogrenade but I quite like folky The Acorn-reminiscent track "Ce Soir" that Anyone's Guess posted.
The B-side of the Very Best 7″, "Yalira", available here, is beautiful and worth the listen.
I've been listening to the Frightened Rabbit Daytrotter session a lot. The featured version of "My Backwards Walk" is great.
And, finally, if I'm posting, I feel it's my duty to mention the great KevvyKev's (one of KZSU's own) 25th anniversary Bang the Drum concert with 25 DJs and 25 MCs. It's definitely another impressive line up. Check out all the details.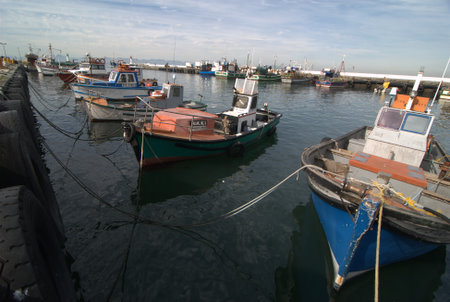 boats in Kalk Bay, False Bay